Neighbourhood Working
What is Neighbourhood Working?
'Neighbourhood working' has been developed to provide a collaborative approach to delivering local services and joined up support for people locally. This includes involvement from health (NHS, your doctor) social care, voluntary organisations and charities. This ensures everyone will work together to find solutions to health and wellbeing challenges in Lincolnshire.
Neighbourhood working is about working together with each individual person, to identify who and what matters to them, and recognising in partnership what could be done to help keep local people safe, well and happy in their own homes. Consent will always be requested before discussing and exploring each person's individual requirements.
What it means for Lincolnshire
This is a new and exciting way of working and the 'joined up approach' is already making a positive difference for local people.
For us in Lincolnshire, it was important that we approached this in a way that meant something for our local population and communities. The challenges that residents face accessing services may be different if you live on the coast than if you lived in a more urban area like Grantham or Boston.
With this in mind, we split the county into areas based around our population and this is the term we refer to as 'Neighbourhoods'. There are ten neighbourhoods across Lincolnshire and this is where the neighbourhood working is focussed for that community. The neighbourhoods can be found on the map below.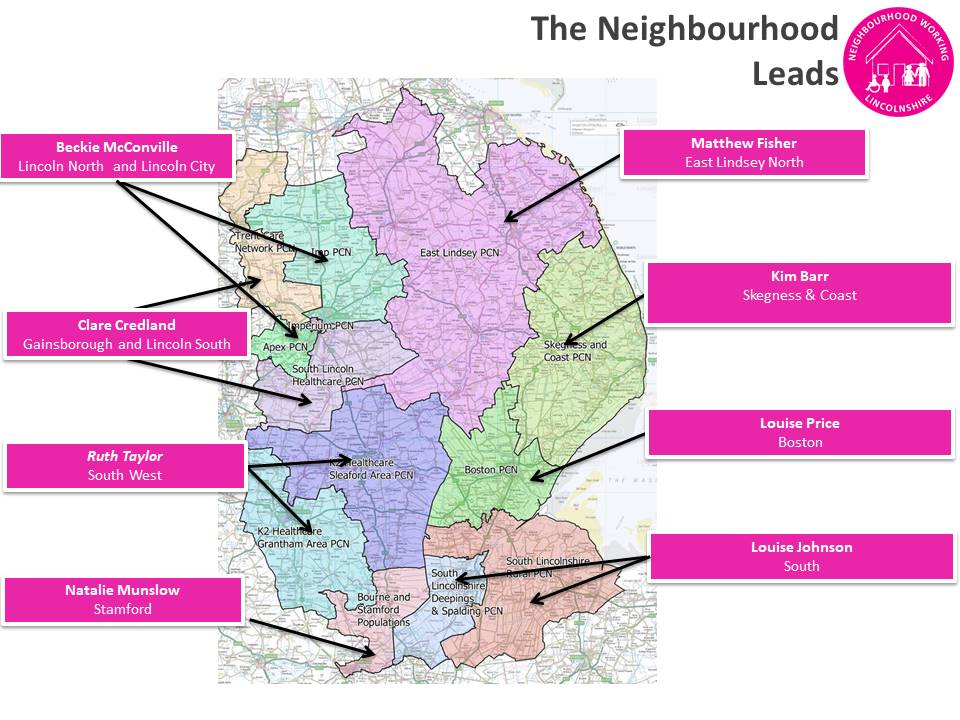 How neighbourhood working works
Neighbourhood working means:
strengthening and re-designing community services to meet local needs, to include better coordination and communication locally.
proactively supporting people at risk of deteriorating ill health
focusing on what individuals can do and supports them to achieve their goals supporting staff to work in partnership with shared information to provide joined up care
supporting faster access to the right help and support, including linking with voluntary groups and charities available in the local area
proactively supporting people, when they need it, providing the right support at the right time
Our Neighbourhood population can:
take a more active role in their own health and wellbeing as a result of greater choice and control
jointly contribute to individual personalised care and support planning according to individual needs
offer individualised support from a range of different professionals
experienced, appropriate and timely support for people with more complex needs
have access to better local information and support networks