Lincolnshire Live Health Awards 2019
Here is a rundown of all the incredible people honoured at Lincolnshire Live Healthcare Awards 2019. Well done to everyone who was nominated and of course those named as winners at this year's event!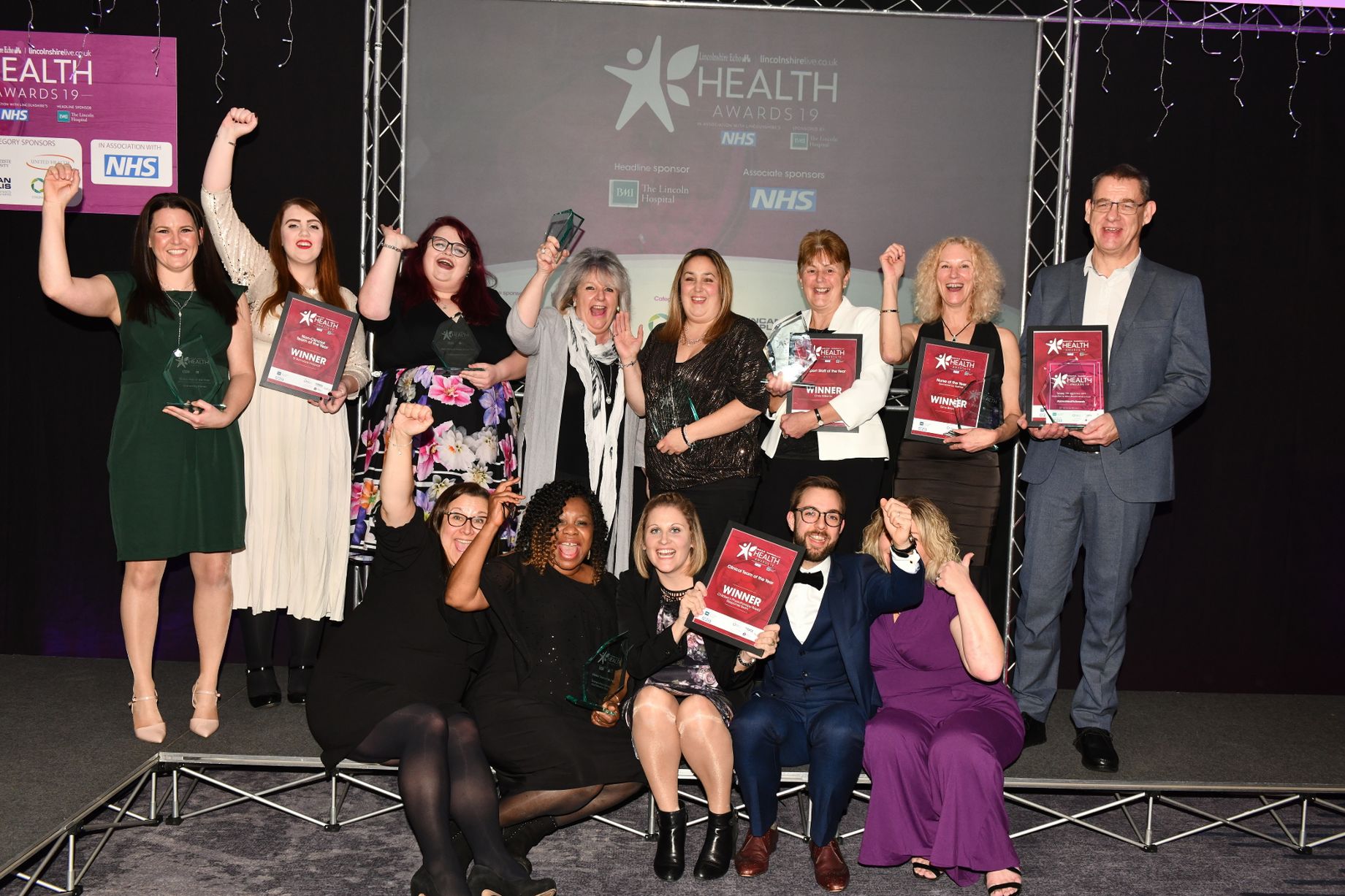 ​​​​​​​ (Image: Anna Draper/ Lincolnshire Echo)
RISING STAR OF THE YEAR
This award celebrates the very best of Lincolnshire's up and coming healthcare talent. Judges were looking for a newly qualified professional who is already shining and is committed to their personal development and who is performing above what is considered normal for their peer group. The shorlisted people were:
KATIE MEYER - Katie Meyer became one of the first Occupational Therapists in the country to be directly employed within Primary Care 11 months ago and since then she has made a significant difference to the lives and professions of many. She is renowned among her colleagues for her caring, kind and fair attitude.
KERRY SWIFT - Kerry Swift qualified as a mental health nurse in September 2018 and is thoroughly committed to helping her patients and giving back to the university that helped her to graduate. She has played a key part in a project looking at the use of restraint, seclusion and rapid tranquilisation of patients which produced a video now shown to all her colleagues. She has also guest lectured at Lincoln University, teaching third year mental health nursing students about restrictive practice and intervention.
SAMANTHA MARSH- Samantha Marsh qualified as a nurse in September 2018 and has thrived ever since. She often goes into work on her days off to learn more about her speciality and expanding her knowledge of nursing renal patients. As a mother of 3 children, she juggles work and home and still finds time to give so much extra to her patients.
The winner was Samantha Marsh.
GP PRACTICE OF THE YEAR
This award seeks to recognise the multidisciplinary team, led by their practice manager, that has had the largest positive impact on improving patient care in their GP practice. The shorlisted people were:
THE ABBEYVIEW SURGERY - Abbeyview Surgery serves 7,600 patients and prides itself on listening to them and introducing new sensible initiatives as a result. The Practice has been at the forefront of local and national innovation being the first to achieve the Carers Quality Award, the first to represent General Practice in the Parliamentary Review, the first to be awarded the Collaboration with Patients and Other Providers Award at the General Practice Awards in London last November and has worked to be a local leader in Dementia care.

GREYFRIARS SURGERY - Greyfriars Surgery has piloted a special programme to have a chaplain based at the surgery and also has a regular Department for Work and Pensions 'clinic' to help them back into work. The surgery has also taken part in a pilot project to more effectively respond to the needs of frail and vulnerable patients. Beyond this it also holds additional 'smear clinics' until 8pm at night to ensure uptake is high. One receptionist recently helped obtain appropriate help for a homeless 17 year old man and all its staff are specially trained to help people with dementia and their carers.
The winner was The Abbeyview Surgery.
RESEARCH, INNOVATION AND EDUCATION AWARD
This award will go to the team/individual who have implemented an idea or innovative approach which has resulted in a saving of time or money, improved practice or a new way of working. They may have carried out or published innovative research papers, been involved with clinical trials or taken part in training or education with the end result of benefiting patients. The shorlisted people were:
DR JULIE CLARKE - Dr Julie Clarke was instrumental in redesigning the tests for ADHD for 6 to 16-year-olds carried out by the United Lincolnshire Hospitals NHS Trust. As a result of this new, innovative approach patients are now being diagnosed an average of 117 days sooner – a process which will save the NHS millions of pounds.
MARTYN STADDON - Martyn Staddon helped design a computer system which brings together all patient experience data into one place. The Single Unified Patient Experience Reporting Board – or SUPERB for short, has allowed the trust to take better account of patient needs and be more responsive to them.
OLDER ADULT HOME TREATMENT TEAM- The Older Adult Home Treatment Team at Lincolnshire Partnership NHS Foundation Trust used to be based on Brant Ward in North Hykeham but staff were forced to provide their services for the elderly in the community after Brant Ward was refurbished. Staff not only adapted quickly but also ensured the move was a success. Their efforts have helped it go from strength to strength which has further enhanced their reputation for being caring, compassionate, courageous, and committed.
The winner was Dr Julie Clarke.
SUPPORT STAFF OF THE YEAR
This award recognises the unsung hero. We are looking for someone who consistently goes above and beyond – going the extra mile for the benefit of patients. The shorlisted people were:
CALLUM LAMB - Callum Lamb started as a LIVES responder at the age of 17 and has since become an Emergency Care Assistant (ECA) for East Midlands Ambulance Service based at Mablethorpe Ambulance Station. Callum has had to overcome his own disabilities and puts others before himself so often that he has numerous thank you letters from patients who he has helped attached to his personnel file.
EXPERTS BY EXPERIENCE TEAM - Experts by Experience is a group at Lincolnshire Partnership NHS Foundation Trust made up of people with learning disabilities who have previously used services and given their feedback to help improve them. The team has made a very real difference to the way the staff at the trust operate and continue to work to improve.
CHRIS WILLIAMS - Chris Williams is a housekeeper for the chemotherapy suite at Lincoln County Hospital who kickstarted the "garden and open space" improvement initiative by going into work on her weekends off to start planting the oncology "Hope Garden" project which has had a real impact on patients.
NADINA PRESTEDGE - Nadina Prestedge is a Practice Manager who works tirelessly to support staff, constantly boosting morale and providing a good service for patients. She has an open door policy and encourages an honest dialogue with staff at all times. Despite a recent battle with her own illness she has remained resilient and has been an inspiration to all of the team members.
The winner was Chris Williams.
NON-CLINICAL TEAM OF THE YEAR
This award recognises a non-clinical team which consistently demonstrate good team working, to deliver an efficient and high performing service.
GREYFRIARS RECEPTION TEAM - The 14-strong reception team at Greyfriars Surgery are renowned among their colleagues for their relentless work to ensure patients and their families are given the compassion, respect and dignity in times of sadness and heartache. The team do their job so well that the clinical staff say they couldn't manage without them and even do their own jobs better because the reception team are so efficient.
NEIGHBOURHOOD WORKING TEAM - Since Victoria Sleight and Rebecca McConville joined the Neighbourhood Working Team about 18 months ago, they have worked hard to bring organisations together to make life better for patients, including helping to set up a bereavement counselling service, a care support supervision scheme and even served a community meal at Christmas to 100 people while dressed as Elves.
ST.BARNABAS HOSPICE - The St Barnabas Marketing department, made up of Amelia Chambers, Minnie Haigh, Hannah Dawson and Ria Webster have completed an array of fantastic projects in the last year resulting in a major growth in the hospice's online presence. They came up with the Your Tick campaign to get around complications caused by GDPR, launched the Forget Me Not campaign at Lincoln Castle and held regular meetings with people who are close to the end of their life to allow them to tell their stories through the marketing channel.
The winner is St Barnabas Hospice.
HEALTHCARE ASSISTANT OF THE YEAR
This award recognises the wide range of responsibilities and dedication of healthcare assistants who promote the highest standards of care across the whole health service.
GAYNOR EDSON - Gaynor Edson is a newly promoted healthcare support worker working at Boston Pilgrim hospital who started her career a year ago at the tender age of 50. Since then, she's developed a reputation for really caring for her patients and always going that extra mile to ensure that no job goes unfinished.

SARAH EYETT - Sarah Eyett has worked with the LD Community Hub South for two years and in that time she has demonstrated her commitment to the team and service users by going above and beyond the requirements of her job role to ensure those she supports have the best care she can provide.
LINDA BRACKENBURY - Linda Brackenbury arranged for one of her patients to marry his partner just before he passed away, managing every detail including the marriage licence to the flowers for the ceremony, which was held in the hospital's haematology suite. She did all the work in her own time in order to make sure a dying man received his last wish.
The winner is Linda Brackenbury.
NURSE OF THE YEAR
This award recognises nurses for their excellence in practice and for the significant contribution that they make to their professions, their teams and their patients through their practice, leadership or research endeavour
GINA BRIAN - Gina Brian is a practice nurse at The Heath Surgery. As well as working at the surgery and studying at university, she spends her spare time working with homeless people to give them help and support, particularly with problems with their feet, and insect bites. Even when there is no one in need of medical attention, Gina is quick to arm herself with a tray so she can wait on tables and help feed people in need of a good meal.
LYNDSAY KHAN - Lyndsay Khan works as a mental health nurse and team manager for the Lincolnshire Partnership NHS Foundation Trust Veterans' Mental Health Transition, Intervention and Liaison Service (TILs) and often goes the extra mile to help the service she works for, manning stands at public events, organising fundraising activities and overseeing the work of a veterans focus group among other things.
KAT MAYER - Kat Mayer is a sister at Lincoln County Hospital's Navenby Ward who helped create an outdoor space for patients with learning disabilities. George's Garden, named after one of their teenage patients, has been a fantastic addition to the ward. Kat made it her personal mission to create the garden after speaking to George and his family, and it is now a reality.
The winner is Gina Brian.
DOCTOR OF THE YEAR
This award goes to recognise a person who shows immense dedication to duty, providing the best possible care for patients in a community or healthcare environment.
DR STEVE BIBBY - Dr Steve Bibby has walked the wards of the endoscopy unit and the corridors of Lincoln County Hospital for 26 years holding the roles of surgical registrar, associate specialist in surgery and currently a support doctor for Endoscopy. His vast experience has made him the 'go to' man for many of his colleagues when they have a problem and his peers feel the most important lesson he has taught them is how to treat patients with the utmost dignity and respect.
DR ALISON LUMLEY - Dr Alison Lumley assumed the position of Senior Partner at Welton Family Health Centre at the start of 2018. Since then she has transformed the practice into a vibrant place with a high functioning team. She has boosted the morale of the team and always goes the extra mile for staff and patients.
DR AJAY REDDY HANDE - Dr Ajay Reddy Hande has improved the safety for premature babies at Pilgrim Hospital and across Lincolnshire by making sure that the mothers and babies get all the medication they need before birth, for the safest and most successful outcome. He always puts the babies and their families first and makes sure that he communicates with the parents in a reassuring and understandable way.
The winner is Dr Steve Bibby.
MIDWIFE OF THE YEAR
This award recognises an individual who improves the birthing experience for everyone they come into contact with, showing both enthusiasm and determination.
SANDRA PYGOTT - Sandra Pygott was nominated for this award by a patient who had had terrible experiences when she became pregnant in the past. That patient told the judges that Sandra transformed her life with her professionalism and caring attitude and she now has a happy, healthy daughter.
LOUISE DIXON - Louise Dixon's patient was readmitted after birth with a suspected pulmonary embolism, but showed no further signs while she was in hospital. Louise pushed for a scan which revealed her patient had pregnancy induced heart failure, a rare condition that kills many women as it's often written off as anxiety.
KAY BOOTH - Kay Booth was put forward for this award by a lady who says she gave both herself and her daughter fantastic care far beyond the normal midwife checks and helped her to feel at ease by taking account of issues she had during a previous pregnancy.
The winner is Louise Dixon.
CLINICAL TEAM OF THE YEAR
This award recognises a clinical team in either a hospital, pharmacy, community or primary care which consistently demonstrates good team working, to deliver an efficient and high performing service and improve patient care.
CHILDREN'S PHYSIOTHERAPY RAPID RESPONSE TEAM - The Children's Physiotherapy Rapid Response Team led by Katie Clements has pioneered a new respiratory service for children with complex long term physical conditions to manage their respiratory problems at home. This new service has significantly reduced hospital
admissions, A&E attendances and length of stay required for children involved in the pilot as well as significantly improving quality of life for
these children and their families.
OLDER ADULT HOME TREATMENT TEAM - The Older Adult Home Treatment Team used to be based on Brant Ward in North Hykeham but staff were forced to provide their services
for the elderly in the community after Brant Ward was refurbished. Staff not only ensured the move was a success, but have helped it go from strength to strength which has enhanced their reputation for being caring, compassionate, courageous, and committed.
BETTER BIRTHS - Better Births Lincolnshire was established in 2017, as a transformation programme for the maternity services across Lincolnshire. Since then, the team have successfully driven forward the transformation programme in Lincolnshire, which has seen a significant improvement in the outcomes for women and their families accessing their services.
JOHNSON HOSPITAL PHLEBOTOMY TEAM - The Phlebotomy clinic at Johnson Hospital undertook a dramatic transformation this year in operational procedures as a direct result of Phlebotomy staff feedback and ideas on how to improve the service for patients. The staff worked together to come up with recommendations having listened to patients complaints and made a smooth transition over to the new service. The change has contributed to a vast increase in use of service and excellent patient feedback, as well as dramatic increase in staff morale and teamwork.
The winner is Children's Physiotherapy Rapid Response Team.
LIFETIME ACHIEVEMENT AWARD
This prestigious award will go to someone who has dedicated their life to giving first-class healthcare or looking after others. There was
no nomination process, and no finalists, and the winner who has dedicated their life to providing first-class care, will be announced this evening.
This winner is Jane Pannell.